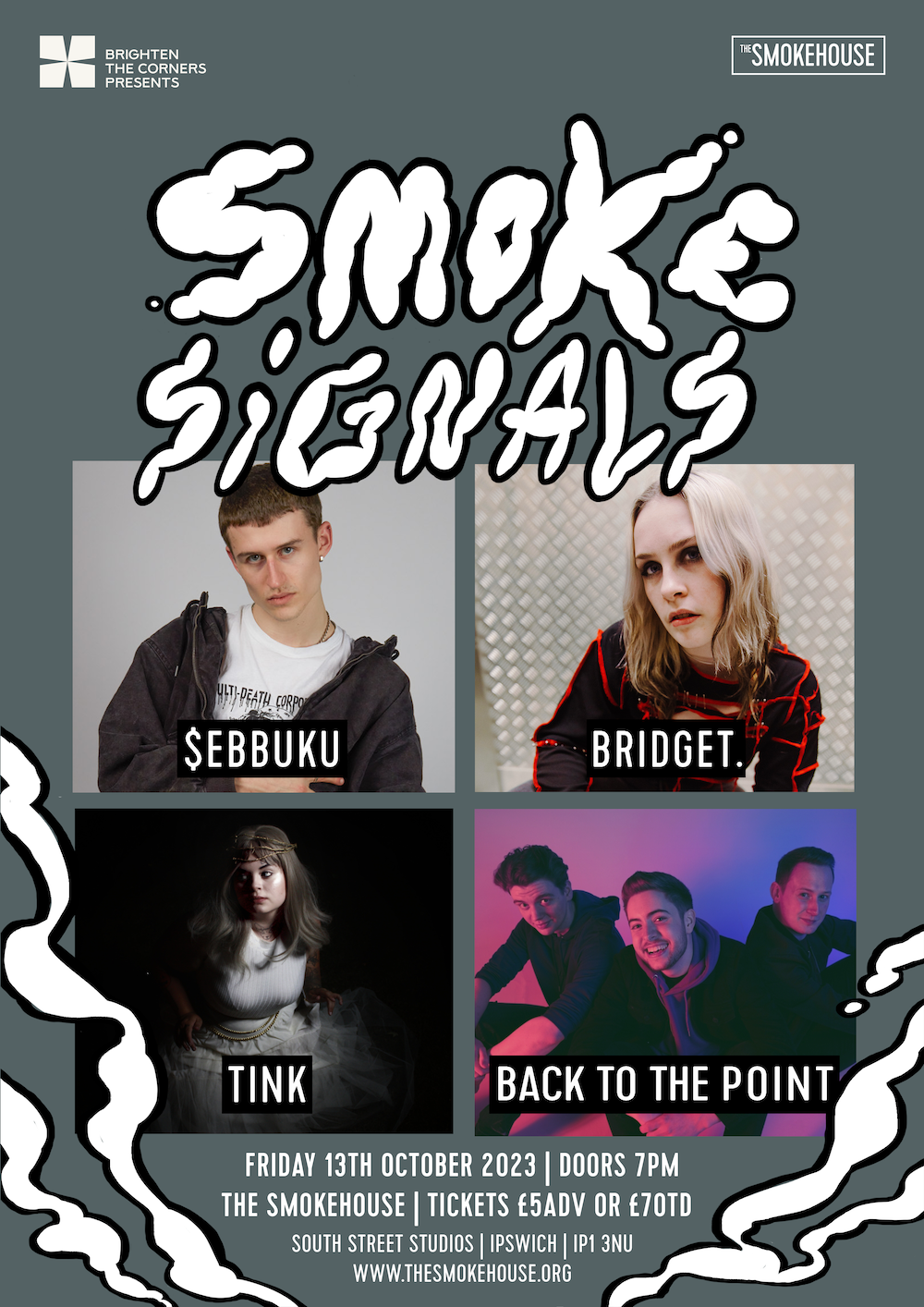 BUY TICKETS
Smoke Signals presents $ebbuku, Bridget., TINK, and Back To The Point on Friday 13th October 2023. Doors open at 7pm.
Smoke Signals is back with an emerge night showcasing up and coming artists and bands from around the region!
There is no headliner for this show as we're about spotlighting all of the artists, so please keep an eye out for stage times closer to the time. 100% of the ticket sales will be evenly split between the 4 artists on the bill. Tickets are £5+bf in advance, or £7 on the door!
Artists
TINK are a symphonic metal band based in Ipswich Suffolk. Influences include, within temptation, nightwish and Evanescence. With their lead singer being reviewed as the "Amy Lee of Ipswich". Music features operatic vocals mixed with heavy guitar riffs and drums.
$ebbuku. Rapper, producer, stereo warrior. Hailing from Norwich at 19 years old, $ebbuku has been making brutal beats for over four years, handing a jaw splintering uppercut to mainstream hip hop. The relentless young artist began making explosive tracks throughout some of his most testing times, placing all his stories, experiences and 'realness' into his music. For his live performances you're sucker punched with live drums and a DJ cutting up beats like a grime-punk butcher. Almost all of Buku's music is self produced, fusing 90's breaks with modern grime. If you're hunting for an artist with thumping bass and immense mosh pits... You've found him!
Bridget. brings you a gutsy blend of alt-rock, punk and grunge. At just 21 years old, Bridget. fiercely fronts her own 4-piece band and, in her first year of performing live, has toured the UK supporting Xtra Mile Recordings' PET NEEDS. Her distinctive post-rock, post-punk sound and "run-into-battle" energy is not to be missed. A must-see for fans of PJ Harvey, Skunk Anansie and Wolf Alice.
Suffolk-born alt-rock trio Back to the Point deliver a fusion of hard-hitting, story-based lyrics and catchy melodies, drawing from influences in pop, rock and pop-punk. The band are currently recording their debut album, with their latest single 'Tattooed Minds' recently featuring on BBC Introducing.