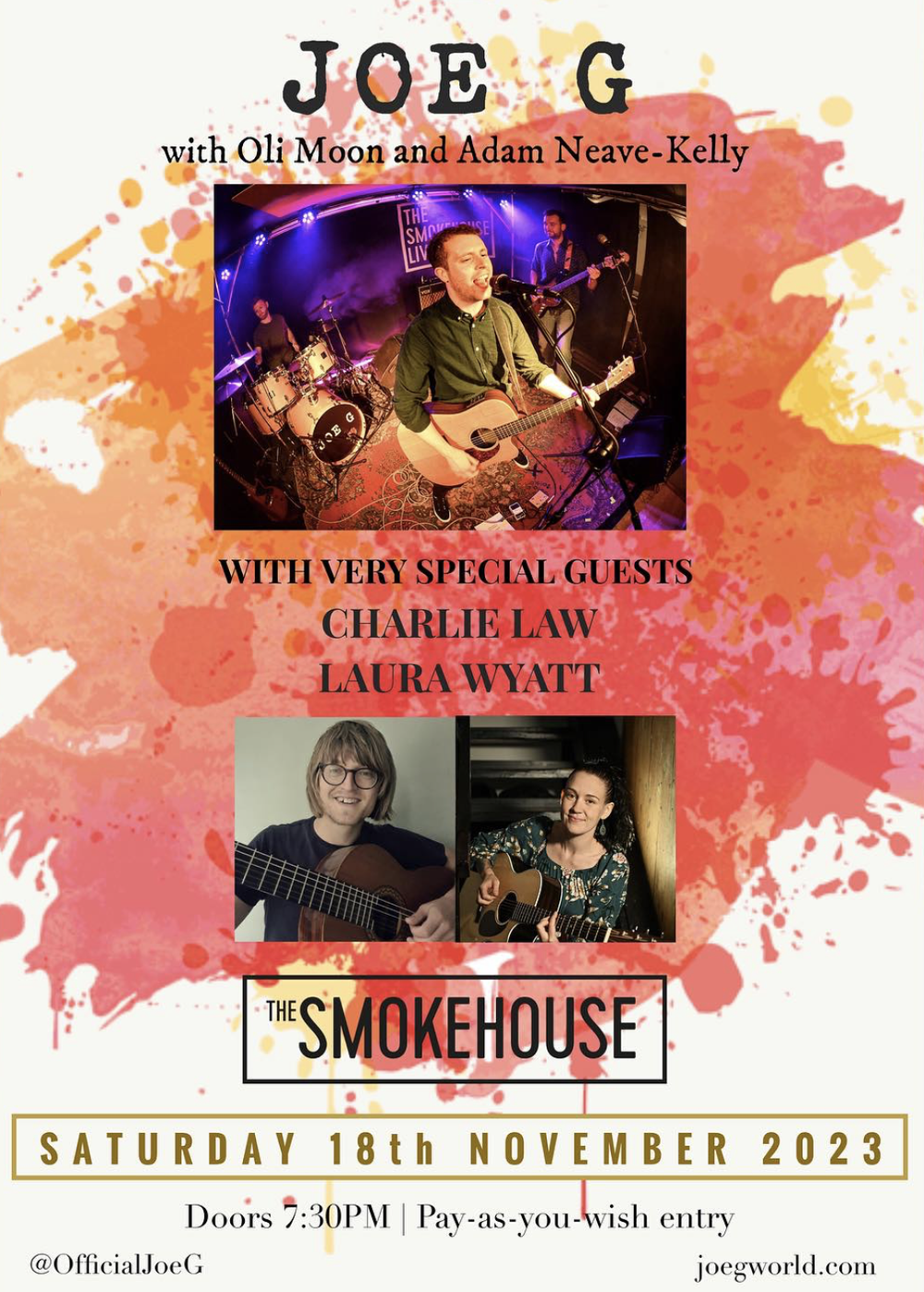 BUY TICKETS
Joe G with Oli Moon on bass and Adam Neave-Kelly on drums.
+ Charlie Law
+ Laura Wyatt
Saturday 18th November 2023
19:30 - 23:00
The Smokehouse, Ipswich
Pay-as-you-wish entry, book your ticket here: https://www.eventbrite.com/e/680034630887?aff=oddtdtcreator
Joe G is an independent singer/songwriter from Suffolk, UK, who, in 2022 alone, attracted high praise from the likes of Ed Sheeran and toured the UK with chart-topping Nizlopi frontman Luke Concannon. Joe has released two albums, 'Landscape' and 'Cityscape', and plans to release his third album in early 2024.
"A really great song, great voice and it sounds wicked, it sounds really wicked."
- Ed Sheeran
"One to watch every year, he's just an incredibly talented musician. I'm really excited for his future. I cannot wait to see him live again… a brilliant performer."
- Angelle Joseph, BBC radio presenter
About Charlie Law:
"Hi! I live a multi-hatted musical life. Whether it is through writing songs, leading community music workshops, performing at functions & weddings, mixing records or teaching one-to-one, I am passionate about using music to re-connect to the soul.
Born and bred in Suffolk, I deliver music within its communities through singing and playing the guitar, harmonica and stompbox.
May music fill up your heart,
Drink with me your flowing glass,
Sing with me for all that's nice,
For joy in music is joy in life."
https://www.charliethelaw.com
About Laura Wyatt:
Laura Wyatt is a singer, acoustic guitarist and songwriter based in Essex. Last Train Home is her debut album and she also writes songs for Alibi Music.
https://www.laurawyattmusic.com