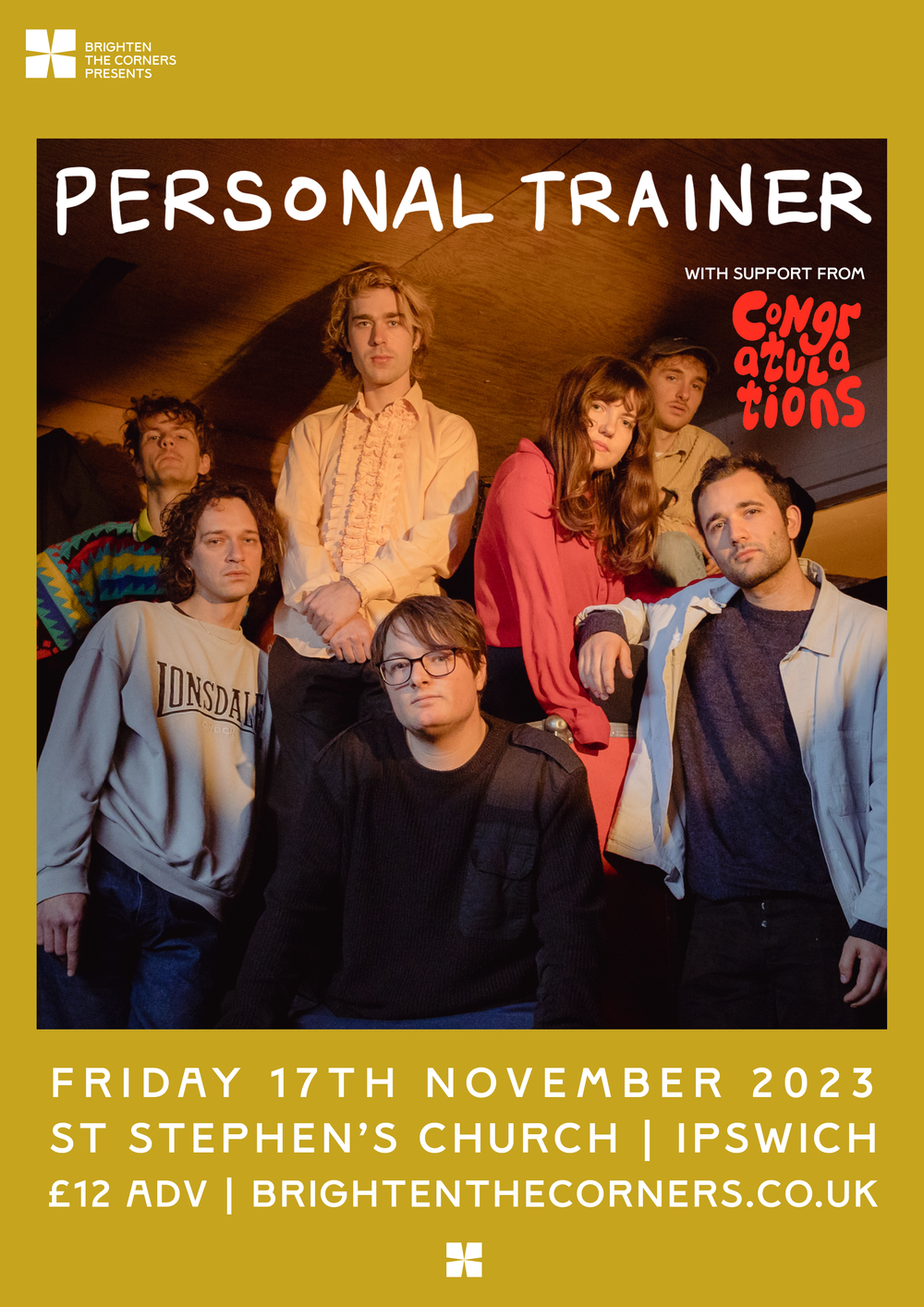 BUY TICKETS
Brighten The Corners Presents Amsterdam-based indie rock band Personal Trainer at St Stephen's Church on Friday 17th November 2023. Support comes from Congratulations.
"Dutch indie-rockers expertly juggle with pathos, clatter and Malkmus-esque deadpan." MOJO
The Amsterdam-based collective Personal Trainer seek out sharp-witted ways to prolong the innate joy of being a band just plugging in and playing. Willem Smit, the group's conductor and cheerleader, started the band as an ultimate love letter to the vibrant scene he himself inhabits. The ten tracks of their rapturously received debut album Big Love Blanket, released late in 2022, arrived fully-formed, displaying a playful, almost hyperactive diversity of sounds and influences, landing on one all of their own.
Co-produced with Casper van de Lans, Willem Smit, the group's conductor and cheerleader, rummaged knee-deep into the strongholds that conceived many of the past decade's quintessential Dutch alternative records. The quest to squeeze out the most potential out of each song might seem somewhat at odds with Personal Trainer's tumultuous modus operandi (which included a 24-hour concert streamed live at Amsterdam's legendary Paradiso in 2021). The conditions Smit and Van de Lans set aren't all that different: create that feeling of being a little bit out of your depth, a little foolish, and allow some of that silliness to guide the musical direction forward. "Whenever I catch myself doing something premeditated, I wouldn't like it if I just pretended to know it all. I think I would find that incredibly lame."
Known for their rousing and electric live shows, 2023 will see Personal Trainer take to the stages at some of the finest festivals, SXSW, Eurosonic, End of the Road Festival and more and play their biggest headline to date at a sold out Paradiso in Amsterdam.
—-
congratulations are four friends who found each other at the right time, fell into each other's arms and started making music they liked; boasting an impressive array of different influences, unashamedly intertwined into their songs. Think girl/boy centred vocals and eccentric fuzzed guitars lying on a bed of break beats and thunderous bass.
Fiercely DIY, congratulations craft their songs with all four members meticulously involved in every aspect of the recording, production, and artwork. Then, donning their scrupulously prepared uniforms of green, blue, red and yellow, the band deliver blistering, frenetic live performances, dripping with the sweat from their growing audiences.
For fans of Pom Poko, Jockstrap and Sleigh Bells.